Indigo FX for Business

With the option of speaking to an experienced team member or using our platform it's never been easier to send money at a time that suits you.
Indigo FX for Individuals

Indigo FX can help take the hassle out of foreign payments. With the option of speaking to an experienced team member or using our platform it's never been easier to send money at a time that suits you.
Our Products
Spot Contracts
Spot contracts are the most common foreign exchange products we offer our clients at Indigo FX. Spot contracts are used by businesses and individuals to make an immediate money transfer. We'll offer you a rate based on a live market rate (or "spot") and you can choose whether or not to transact then and there.
With a spot contract you can make a payment very quickly; as soon as you've agreed your rate and we've received cleared funds, we will then pay funds to an account of your choice
Forward Contracts
A forward contract is a hedging product that allows you to secure an exchange rate over a set period of time on a predetermined volume of currency. You will be able to lock in an exchange rate for up to 24 months and protect you against any negative market movement.
Limit Orders
Decide upon a target exchange rate that you want to achieve, if your chosen rate is hit, we'll execute your payment – 24 hours a day, 7 days a week.
Stop Loss
Mitigate against any market downturns by setting a worst-case scenario exchange rate. If your currency pair drops that low, we'll make an exchange to protect you from any further losses.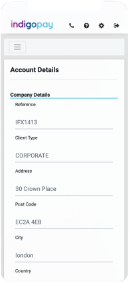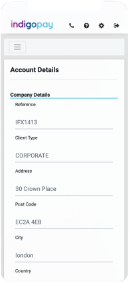 IndigoPay
With a wide variety of products available it has never been so easy to transfer money to anywhere in the world. IndigoPay allows you to set up trades and make payments whenever and wherever suits you.
Pay suppliers, business partners or employees at the click of a button with our payment platform IndigoPay.
Get Started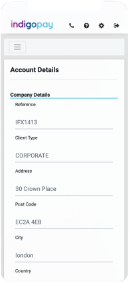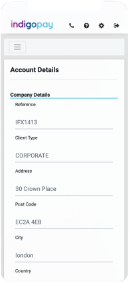 Secure Payments
Indigo FX take the security of your funds and your information as a priority
Find Out More
Excellent

Brilliant service!
We've been using Indigo FX for some time and have always had good rates. In recent weeks during the UK Coronavirus lockdown we've had limitations working from home but Indigo have been fabulous. Andy Oliver, you have helped me immensely during an exceptional period and I cant thank you enough for your efficiency and general assistance! Indigo rates continue to be competitive and with a service second to none. This is a competitive market, I'm sure we will all remember those that have helped us during these difficult and challenging days, Indigo will sure be one of those partners on our list. Great work thank you!
Great company and services
Always fast and reliable. I personally dealt with Mr. Andy Oliver several times in the past year. Recommended for small and large transactions.They were always able to offer great exchange rates, among the best on the market.
I live in the United States and was…
I live in the United States and was fortunate enough to have Ian Cliffordy at Indigo FX assist me to buy currency for a future boat purchase in the UK. Ian was very professional, pleasant, and exceeded my expectations including navigating me through the process seamlessly. Ian was quick to answer all of my questions, (which I happened to have many). I would recommend his services to anyone looking for professional care and consideration. Thank you Ian.
Very happy with the service received…
Very happy with the service received and would certainly recommend. Always very polite and friendly, I deal with Andy Oliver and he is a great chap to deal with.
Professional and friendly
No issues in dealing with Ian, always professional with sound advice
FAQ's
Simply click on 'Open an Account' and follow the instructions on screen.
Opening an account with Indigo FX carries no obligations, there is no cost associated with setting up an account and you are not obliged to trade with us.
Indigo FX does not charge a commission.
For major currency transfers (GBP and EUR) transfers can take place the same day, upon receipt of your funds before 12pm. If received post 12pm the receipt of funds may be the next working day. For other currencies it can typically take 1-3 working days. Please note this is only a guideline and Indigo FX cannot guarantee funds within this timeframe, payments can be longer dependent if further information or documentation is required, technical issues or processing of funds at the bank of the recipient.
Indigo FX Ltd is authorised by the Financial Conduct Authority under the Payment Service Regulations with FRN 594433 and regulated by HM Revenue and Customs for Money Laundering oversight with certificate number 12690590