Why Use Indigo FX?

With the option of speaking to an experienced team member or using our platform it has never been easier to send money at a time that suits you.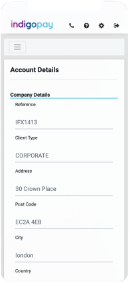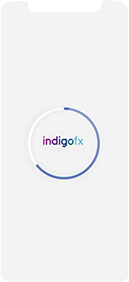 IndigoPay
With a wide variety of products available it has never been so easy to transfer money to anywhere in the world. Pay suppliers, business partners or employees at the click of a button with our payment platform IndigoPay.
Get Started
Secure Payments
Indigo FX takes the security of your account information seriously. To ensure we provide you with a safe and secure service we have a number of  security measures in place to protect you.
Find Out More
Trusted by Businesses Worldwide
Trusted by businesses to make their international payments
Great Rates

Get more for your money with our bank beating rates

Over 1 Billion

Sent internationally since 2012

No Transfer Fees

Move your money quickly and securely

60+ Currencies

Extensive currency coverage
Reviews

Visit Trust Pilot and see our reviews
Brilliant service!
We've been using Indigo FX for some time and have always had good rates. In recent weeks during the UK Coronavirus lockdown we've had limitations working from home but Indigo have been fabulous. Andy Oliver, you have helped me immensely during an exceptional period and I cant thank you enough for your efficiency and general assistance! Indigo rates continue to be competitive and with a service second to none. This is a competitive market, I'm sure we will all remember those that have helped us during these difficult and challenging days, Indigo will sure be one of those partners on our list. Great work thank you!
Excellent service
Used Indigo FX for many transactions. Very professional service and my informative, enthusiastic contact Scott has been invaluable in my FX decisions.
Great company and services
Always fast and reliable. I personally dealt with Mr. Andy Oliver several times in the past year. Recommended for small and large transactions.They were always able to offer great exchange rates, among the best on the market.
Great service
Been using Indigo FX for a couple of years now - always a great service - and Ian strikes the right balance in keeping me updated with the vagaries of the FX world
Professional and friendly
No issues in dealing with Ian, always professional with sound advice
I dealt with Ian Clifford
I dealt with Ian Clifford, who was polite, informative and professional. The transaction was carried out efficiently and I will be using the company again in the future.
Frequently Asked Questions
Indigo FX offer Spot, Forward and Limit Order services.
You can arrange a deal either by speaking to a member of the Indigo FX team or via our payments platform Indigopay.
Indigo FX does not charge a commission.
Indigo FX Ltd is authorised by the Financial Conduct Authority under the Payment Service Regulations with FRN 594433 and regulated by HM Revenue and Customs for Money Laundering oversight with certificate number 12690590
As a FCA authorised firm all client funds related to payment services are safeguarded in a specific bank account, for the sole purpose of holding your funds.